Disclosure: This is a sponsored post, but all opinions are my own.
Hey friends! If you have ever talked to me one-on-one about places I've been, you know I love giving travel advice. Why else would I have a travel blog, right? Once I find a cute coffee shop or great live music venue, I want to share it with everyone. (If anyone needs me to plan their trip to Austin, Texas, I will make sure you are well fed and your ears are filled with great music.)
When I travel, I want the same advice I would give myself about Austin, Philly, or any place I've lived. What are the best coffee shops that have wifi? Does this bar have a cover? Where can I get the best happy hour deals? Is [insert tourist attraction here] actually worth it?
You can sometimes find this advice in hostels, if there are cool people in the lobby to give it to you. You can sometimes find this advice online…but let's be honest, backpackers, the recommended places can be a bit pricey, touristy, and you're still left with questions after you browse through the site. You can sometimes find this advice on Tinder…if you want to even go there. (No? Just me?)
Luckily, there's a new way to get the advice you're looking for, from local experts…right on your smartphone.
Meet Trec.
About Trec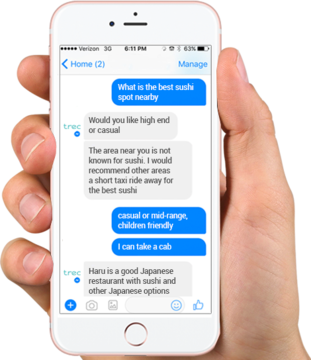 Trec launched about three weeks ago, and I wish I had used it while I was backpacking. Here's how it works: you open up a chat window with Trec on Facebook messenger or WeChat and click "Ask Expert." Select the city that you need advice about, and ask your question. Since Trec is still new, the answer may not be immediate; before you submit your question, you will be asked how long you are willing to wait for an answer (up to 60 minutes). The message is sent to local experts, and when they respond, you can have a nice chat about your question and get their recommendations. You get to talk to a real person, who has real advice and experience in the area. Nice!
This is What I've Been Looking For!
As I mentioned earlier, I always joke that I use Tinder to find this sort of stuff: local restaurants, dive bars, cool sights that aren't on TripAdvisor, etc. I really do! Unfortunately, you have to sort through quite a lot of not-travel-advice before you can get the answers you're looking for. The other day, I asked a guy in Brisbane for cool bars to go to, and he gave me his home address. That's not a great bar. That's a home.
Anyway…
I'm so glad I'm able to work with Trec…this is a travel app that I've been looking for! There are so many sites and apps that recommend different restaurants and places to go out, but I would rather have the opinion of someone I can directly chat with. The ability to have a real-time conversation is so helpful; if I've learned one thing from writing a travel blog, it's that every traveler is wildly different. Backpackers, resort-hoppers, newbies, long-term travellers…there's no website that can cater to everyone's specific needs and idea of a good trip. I know I'm very particular about the advice I need, especially when I'm trying to get some freelancing work done or I'm looking for a specific vibe on a night out. I ask a bunch of questions when I'm getting travel advice. And now I can get a bunch of answers!
Hey Backpackers and Bloggers! Love Giving Advice? Get Paid to Do It!
I'm excited to start chatting with travelers – I just signed up to be a Trec expert and I'm ready to give advice about Philadelphia, Austin, Brisbane, and Kuala Lumpur. But as I mentioned before, Trec only launched three weeks ago. They're in need of local experts who know cities all around the world! Trec is offering paid positions for these experts – let me repeat that: paid positions. Getting paid to give travel advice is kind of a dream, yeah?
Here's how it works. Sign up through Facebook messenger or WeChat. You'll list up to five locations where you consider yourself a local expert, the languages you can chat in, and "skills" that you have for giving advice. (For example, you can give great advice about where to find good coffee and beer, you would list those as "skills." My skills include vegetarian and vegan food, coffee shops, bars, and female-friendly neighborhoods.)
Pay is pretty simple; you request how much you would like to earn per 15 minutes of chatting. Trec takes a cut of that when the app is used. When you sign up as an expert, you can earn even more by referring other bloggers, travel agents, and travel experts! (For information about getting a referral code and recruiting other experts, you will reach out to Trec directly.)
If you're interested in becoming an expert, check out their website, and use referral code trecmeg10 when you sign up. This is a really exciting opportunity, and I'm excited that I'm able to share it with you!
Use Trec? Love Trec? Have Advice for Getting Local Advice? Let Me Know in the Comments!