Hey friends! I've got kind of a different post for you this week…it's a little longer, with less pictures, but I've always wanted to write about my experiences with yoga. I've been exploring yoga on and off for many years and it's really made a great impact on my health, physically and mentally. It's a great thing to add into daily routine, but it's also great for traveling, when every day can be different.
There are a few basic reasons why I enjoyed practicing yoga while traveling. You can do it anywhere, it keeps you fit, and it stretches you out after being cramped up on an overnight bus or spending your days hiking/walking/backpacking. Going beyond the physical reasons, however, yoga alleviates some of the mental strain that comes with traveling. I have three little stories about three different experiences I had doing yoga on my trip and when I finally settled down in Austin. Enjoy!
Yoga Centers You (Yoga in Berlin)
By the time I had arrived in Berlin, I had visited seven cities in the span of about two weeks. My head was spinning. I was jetlagged, and an overnight bus/ferry from Copenhagen had not helped one bit. I spent my first few hours at my Couchsurfing host's house napping.
After scrolling through Couchsurfing meetups, we found a free yoga class in Tempelhofer Park, once of my host's favorite places in the city. It was perfect: a free, fun activity in a beautiful location. The class was (luckily) held in English, and our yoga instructor said it was one of the biggest free classes she had ever held. People from all over the world attended, and Berlin locals even joined in throughout the class.
It had been the first time I had practiced yoga in a few weeks, but that's the wonderful thing about yoga. No matter how far you can stretch or how well you know the poses, you can go through a class and get back to the meditative state that yoga provides. I could have been in Berlin, I could have been in Glasgow, I could have been in Philadelphia…but what I focused on during that hour was that I was in my own body. I began to use exercises I learned through meditation as I traveled: I began focusing on my feet as they wander through cities, the feeling of my back against my backpack, or my head pressing against the seat of a bus, train, airplane, etc. No change in scenery can change how I feel within my own body, so whenever I'm feeling lost, I return to focusing on that feeling.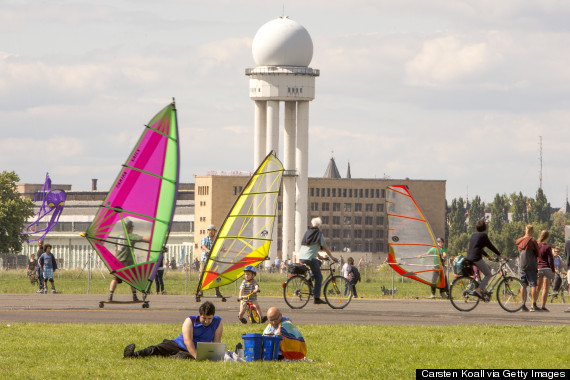 Yoga Connects You with Others (Yoga in Kielce)
After Berlin, I spent two weeks in Poland volunteering for an English immersion camp for Polish teenagers. I volunteered with 20 other native English speakers. I hadn't been a while since I had been surrounded by that many people my age for an extended (if you consider a week "extended") period of time. I was so used to being by myself that when I was faced with so many people, I felt anxious. Were people judging me? Was I well-liked? I was asking the kind of questions I thought I had left behind in high school.
The second week in Poland was a change; many of the same native speakers stuck around, but we were in a new location. We stayed in a gorgeous hotel with a balcony. On the first day in this new location, I decided I would do yoga in the morning before breakfast. I always invited other native speakers to join. I played a YouTube video from one of my favorite yogis (which you can watch here) and some days I'd be by myself, some days I'd be joined by friends. One day in particular, the video wasn't working. I basically had the video memorized, so I timidly offered to go through what I remembered. I was extremely nervous, but I tried to link together all of the vinyasas in the video the way I remembered. I even added in my favorite stretch during the practice (shout out to pigeon pose!!) By the end of the class, I was able to look at yoga from a new perspective. Paul and Angie were very relaxed as well; the session was a success!
I spent the rest of the day walking on air (even though I kept focusing on my bare feet against the ground). Yoga always provided me with a calm and peaceful energy, and that day I was able to share that with others. I was hooked. There was no doubt in my mind that I wanted to pursue yoga even deeper.
Yoga Shows You Where You Need to Be (Yoga in Austin)
For the time being, I'm stationary. I've moved to Austin and signed a year-long lease. Besides wanting to explore this amazing city that I've admired from afar for a few years, I really need to save up some money before I travel again.
Within two weeks of moving, I started attending free yoga classes held at the Whole Foods on Mondays and Wednesdays. One Tuesday night, I had been venting to my best friend about my job, asking, "Am I doing enough? Am I making the right choices?"
On the bus to the class, I saw a tweet advertising that finally volunteer positions for Fun Fun Fun Fest had become live. I had been waiting on this application for a while, especially after having a blast volunteering for Austin City Limits.
I usually keep my eyes closed while I practice, but something about the flow of the class that night led me to keep them open. I remember gazing at the lights strung along the trees on the Plaza. I saw 300 Austinites practicing with me. I saw the neon glow of Waterloo Records, just a street away.
At the end of the class, in savasana (Corpse Pose, aka when you lie flat on  your back and soak in your practice), I felt the activation of my third eye. I hadn't been focusing on that chakra, so it was kind of odd. I told myself I would figure out what this feeling meant later and continued with my meditation.
After class, I looked deeper into what the third eye chakra symbolized. I found this quote from personaltao.com: "The third eye is our ability to see what might be, to see potential." That sentence tied my whole day together in a nice little present. When I was 15, I was determined to move to Austin. I didn't really have that much reasoning behind it, but that type of intuition is what the third eye provides. I knew there was something for me here. The day of the class, I was gathering inspiration from Austin; the music festivals I hoped to work for, the record stores, the bookstore I had visited next to Whole Foods…even going to the class itself. When I explore Austin, I'm exploring my potential.
There are many things I hope to explore while I'm in Austin: the city itself, yoga, blogging, crafting, my next steps in life…and I'll hopefully continue to post throughout this new journey! If you have suggestions/feedback/etc. let me know in the comments or shoot me an email! (Info is on my Contact page). Thanks again for reading!