So here I am in Brisbane…let's write some blog posts about Brisbane then, hey?
Last Sunday, I had a nice little Southbank Sunday Funday with one of my friends. Southbank, right on the Brisbane River (clever name, guys), has a ton of bars, restaurants, and things to do. We spent the whole day pretty much on one street (Grey Street, the main street,) so I figure I'd talk about the day and give some suggestions for anyone passing through Brisbane! I'm really enjoying the city (enjoy my little life update here) and I can't wait to keep exploring more neighborhoods over the next two months. So let's go, shall we?  Southbank!
How To Get There:
Southbank is pretty central. If you're in the CBD, you can just take the Victoria Bridge over to Southbank and keep going straight. Before you know it, you'll be on Grey Street! You can also take a ferry taxi, but it's not a long walk or bike ride. If you're taking the train into the city, you can just get off at the South Brisbane station on Grey Street and you're ready to go!
What To Do In Southbank – Sunday Funday Edition
Start the Day with a Long Black and a Trip to the Beach!
(Australians can be pretty particular about their coffee, and the coffee lingo shifts a bit on this side of the world. You can order a flat white, which contains a double shot of espresso and slightly less foam than a latte. I usually order a long black, which is essentially an Americano, but a little bit stronger. (Thinking about an American-Australian dictionary for a future blog post…sound good?))
The sun was out on Sunday, but not beating down, and it was 75° F (23° C) out in mid-November. Perfect weather for a day out.
We started the day by heading to Espresso Garage for an iced coffee ($5), strolled through some markets set up along Southbank, and had our drinks at Streets Beach (free!). Streets Beach is my kind of beach; it's right next to Southbank, with sand and a pool and a beer garden just a few steps away. You can take a dip, but you can also just sit in the grass or the sand and enjoy the morning.  If you come back during the week, particularly on a Tuesday-Thursday morning, you can even head over to the Epicurious Garden and pick up free herbs and produce!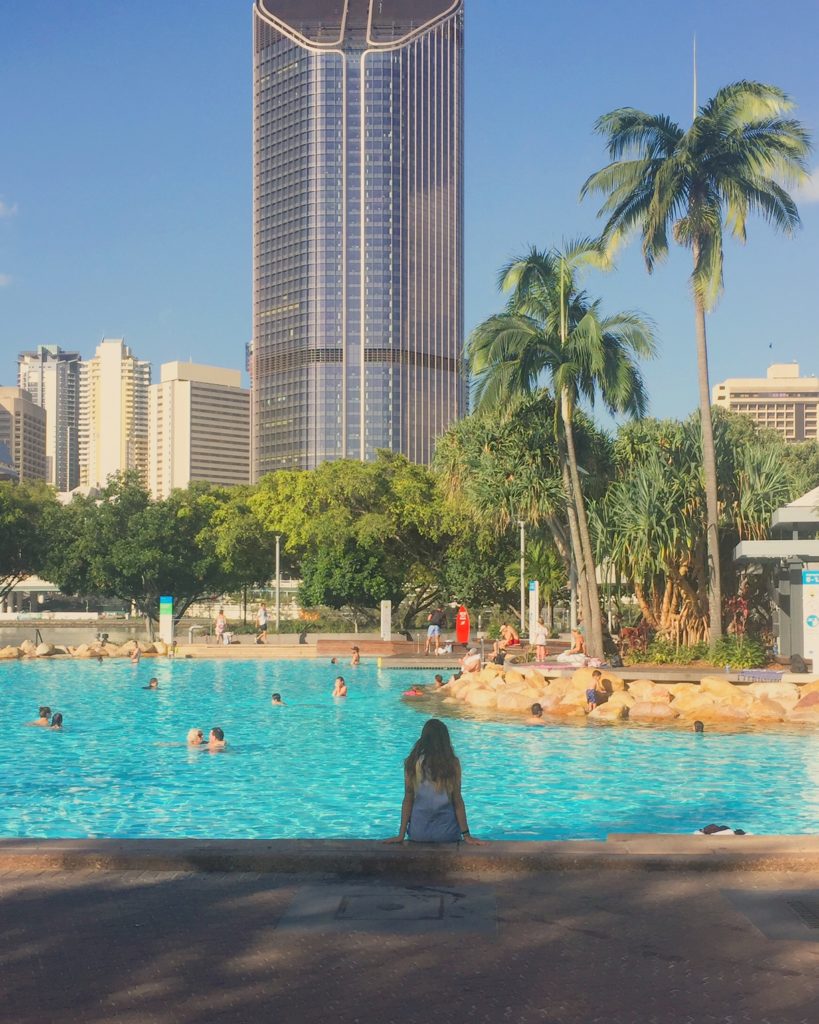 If it's raining, I would suggest spending the morning around the museums! The Queensland Art Gallery and GOMA (Gallery of Modern Art) are both worth a nice stroll (and both free). The GOMA especially is really lovely; there are tons of lounge areas to sit and read, and the rotating exhibits have been great so far. Rain or shine, you can put these museums on your Brisbane bucket list.
Morning Beer, Anyone? 
I mentioned the beer gardens just a few steps away from the beach! You've got a few choices. We had a pitcher at the Southbank Beer Garden, right across the street from the South Beach Social. I've heard Plough Inn is pretty great as well, but that's for another Sunday…
Lunch: Poke Bowls at Suki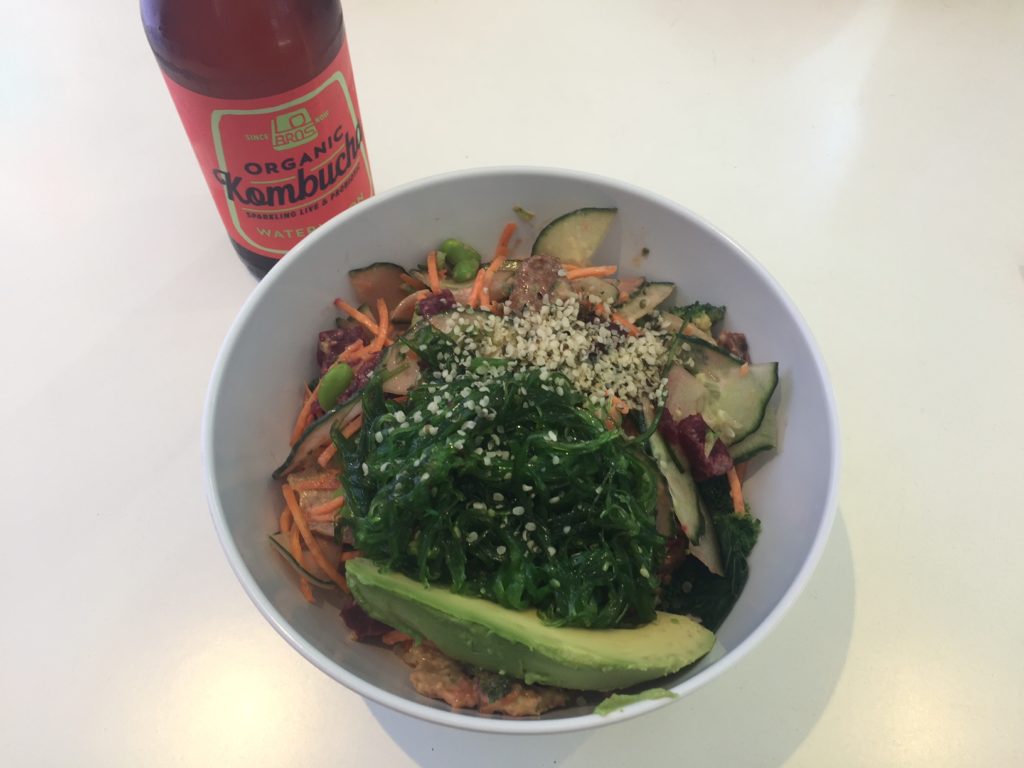 Finally! Every time I pass by this place I want to try their sushi burritos and poke bowls. (Sushi burritos always remind me of my coworkers at the Lush in Austin, who are plain obsessed with the ones at Whole Foods.) Suki works like Chipotle, but with a sushi burrito, bowl, or nachos. I don't trust myself to have control and make a bowl with toppings and sauces that make sense, so I chose one of the recommended Tinie Tempeh bowls ($16.50, which is a bit much, but there are cheaper options).
De.li.cious. I could eat avocado and beetroot straight all day long, and surrounded by other veggies and quinoa and tempeh, I felt super healthy. I couldn't finish the whole thing – it was so filling! I recommend getting a takeaway bowl, especially if you want to leave room for dessert. The kombucha at Suki ($6) was also the best I've had since I left Austin.
Dessert: Doughnut Time or Mister Fitz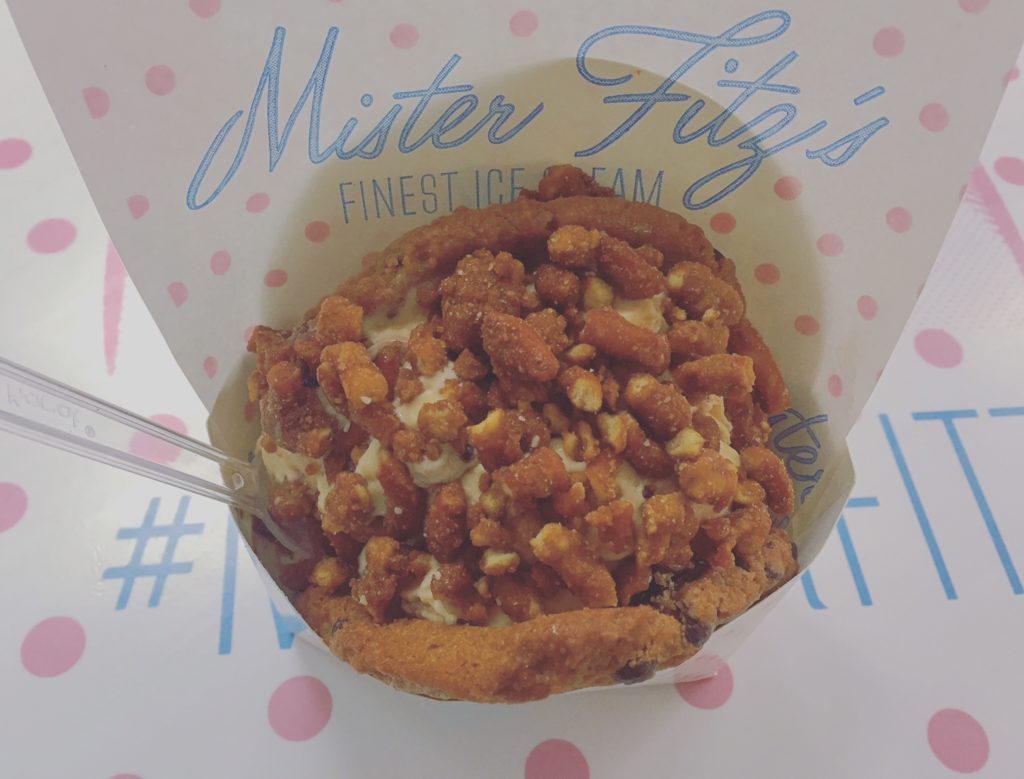 Make your choice; there is no way that you'll be able to finish both, especially if you just had lunch! These two are right next door to each other on Grey Street (and also right next to Tippler's Tap, which I'll write about below.)
Both options are pretty fantastic. There are three Mister Fitz's locations in Brisbane, and definitely more Doughnut Times (throughout Australia as well!) You'll definitely have to try Doughnut Time at some point during your travels. The best part about Doughnut Time? VEGAN DOUGHNUTS! I'm going to let a possibly unpopular opinion out…better than Voodoo Doughnuts I SAID IT. I've gotten the (vegan) Liam Hemsworthy and the (not-so-vegan) Stranger Rings. Enjoy. By the time you read this, I may have had another….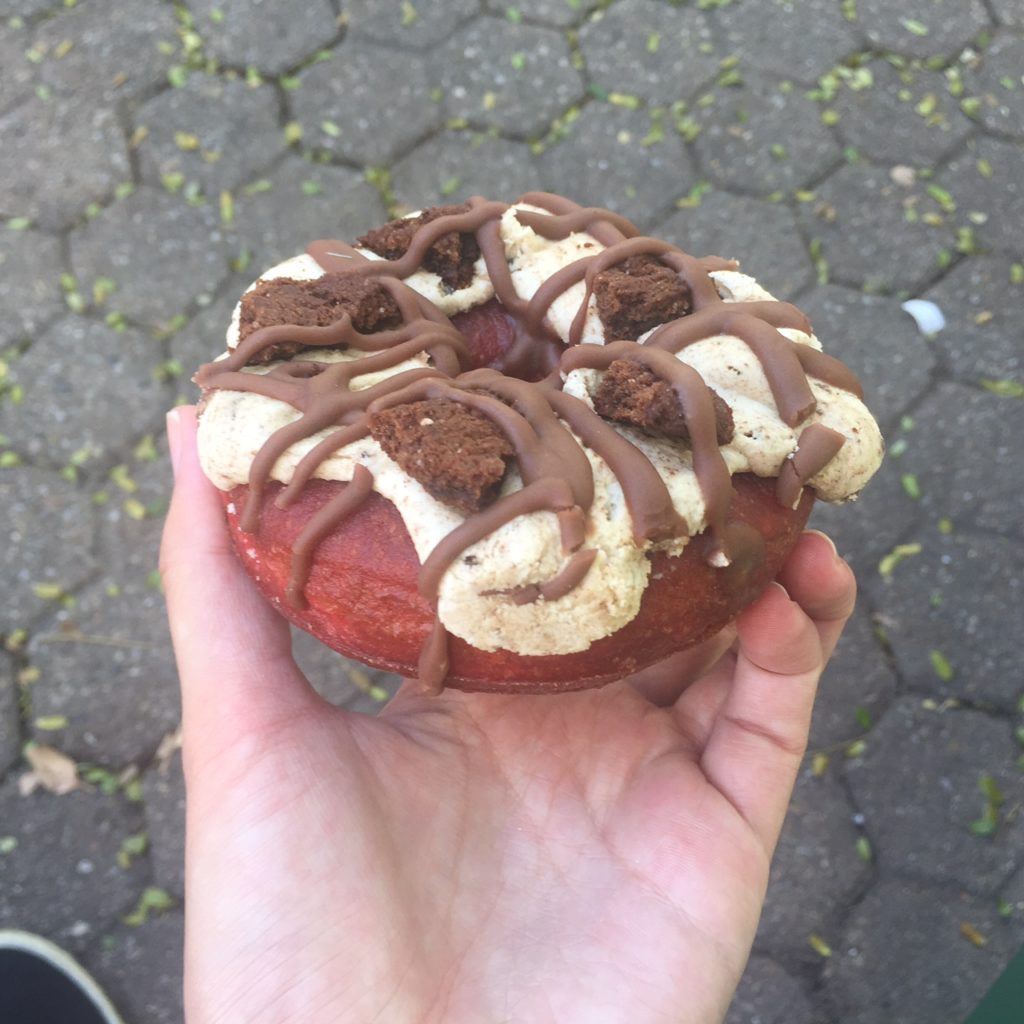 My past Google searches from the past few months are full of "craft beer [insert city here]." (Among other searches like, "is infinite jest worth reading," "how do thai showers work," and "### fahrenheit to celsius," which is now the most common.) Tippler's Tap showed up pretty quick, and it does not disappoint. I took my friend Paul when he visited for ciders and their new vegan menu, and then went again Sunday for more beer. So many different beers on tap (and available for takeaway,) and they're always changing. I ran into a coworker Sunday, which was dope, because randomly running into people I know a month into a new city is good timing, in my opinion. Good chats and good beer is what Sunday Funday is all about! Overall, a win of a day, and I got a blog post out of it!
Not to brag, Philadelphia friends, but it's almost December and the weather is just starting to get nice in Brisbane.
I can't wait to have more days like this.
Love Brisbane? Have more craft beer suggestions?  Enjoy nearby neighborhoods? Let me know in the comments!