In Penang, I spent most of my time with a fellow digital nomad lady friend. We both work online. Social media makes this life look pretty easy, and I'll admit, I find immense joy in being able to work from a bus seat or a bike-themed coffee shop or just from my bed, at any hour. Exploring George Town with Becky was great because even though we explored art galleries and had drinks on Love Lane and ate delicious chocolate cake, we were perfectly content with sitting in silence, working on our laptops. For a few hours at a time.
I work quite a bit in between motorbiking and drinking Changs in order to keep traveling. And even though I'm spending a lot of time working while I'm traveling, it's nothing compared to how much work I did back in Austin to get here. Y'all, I was clocking in up to 70 hours a week.
Moving to Austin, Making a Budget
Before I moved to Austin, I knew I was going to have to save a lot of money to get my yoga teacher certification and travel abroad. Yoga teacher training costs around $2,500, so, there's an expense right off the bat. Andrew and I had been planning a trip to Southeast Asia for years; we originally bounced around the idea of going in summer 2016, but after budgeting very poorly for my trip to Europe, I figured it would be safe to wait a year and save up money. And save I did.
When I first arrived in Austin, I had a full-time position with AmeriCorps, a service organization that promised some money for my loans and the rewarding, warm-and-fuzzy experience of living below the poverty line with friends. If you want to work for AmeriCorps, know that there's a very small chance that you'll save up any money, unless you go on food stamps or sleep on a couch or something. I was making less than $1,200/month, living in a decent (but still really decently priced) apartment that I shared with two roommates. I didn't go on food stamps, and still have conflicting views about it. Within a month of moving to Austin, I applied for a second job with Lush. A second job gave me something to do, and relieved a lot of guilt that I felt spending money and enjoying my time in Austin. In Philadelphia, budgeting looked like Ramen, walking 40 minutes to work, and guac and chips for lunch when the girl who gave me a discount at Qdoba was working. (Thanks, Melissa.) I didn't want to live or feed myself like that again, so I made sure I had a more comfortable food budget.
I worked weekends for a few months until the end of my 6-month AmeriCorps contract in March. I also picked up another job writing online for a content mill that paid shit but gave me ideas and writing samples. I knew it was possible to work from home writing…but was that actually something I was capable of, full-time?
I had to find out quick. A few weeks before I finished my contract, I was lost and panicking. I had no idea what I was going to do for money, but I knew that I wanted to save up for Asia and keep my job with Lush if possible. I started looking for remote work through my favorite, very underrated source, Craigslist. Swear to God, it's a miracle. I looked through the retail ads, but focused mainly on responding to ads for PR, social media, and writing. Might as well use my degree, eh?
After responding to a dozen or so ads that needed writers or people with social media experience, I got a full-time job as a copywriting assistant. Basically, I wrote blog posts for dentists and defense lawyers who wanted to bring more people to their site through Google searches. I also wrote tweets and e-books, all from my laptop and wherever had a wifi connection. Getting this job was divine intervention; I'm honestly very unsure as to what I would have done if I didn't get it.
Writer, Soap Peddler, Exhausted Yogi
So I was working 40 hours a week, and I kept my job with Lush. One of the reasons I wanted a remote job was so I could open up my availability with Lush and work whenever. My life became Lush, yoga, and writing. I moved into a new apartment and made the goal of saving $1,000 a month after rent, food (~$40 a week at Trader Joe's, plus a few occasional tacos and meals out), yoga, and a few hundred dollars to my student loans. (I racked up around $23K. I was down to $17K before I left for Asia.) At first, the savings would go to my yoga teacher training, and then my plane ticket to Thailand.
My room was tiny and contained two pieces of furniture (a bed borrowed from my aunt and uncle and a $16 bookshelf from Target). I passed on getting a car and took the bus everywhere. I rarely had a full day off, but I could work from home, even if that meant working 10-12 hours a day.
There was definitely a 14-hour day in there once or twice. There were definitely some months where I didn't exactly meet my $1,000 goal and had to refocus my budget. Once yoga teacher training started (training was 8-6 every Saturday and Sunday for 10 weeks at the beginning of 2017), things got hectic. I ended up switching out my job at Lush to work for my uncle, who was staring a new business and needed marketing and social media help. I was still working 60 hours a week, just all from home, with occasional trips downtown.
I'm sure this sounds awful to some people, and there is no shame in wanting to clock out after 40 hours. My workaholism is something that I'm trying to work on (ha), because days off tend to make me very anxious and working every day helps me avoid that. I'm not so sure that working as often as I did is healthy, but I can't complain. I enjoyed my life in Austin, I was able to make great friends and be in an amazing relationship with someone who didn't mind waiting until I was done yoga or working to hang out. I can't count the amount of times where I woke up in his apartment (I crashed with him for a while before I moved), opened my laptop, made us coffee, and wrote as much as I could before he woke up. I loved every single morning like that.
Anyway.
I wanted to write this post because the reality of the digital nomad life isn't always kitsch coffee shops and exciting destinations. Before I was able to work abroad, I had to work my ass off. In college, I worked at 2-3 internships at a time to gain the skills that I use now. I continue teaching myself through online courses. I saved my butt off. My 14 hour days included writing drafts and checking emails from the moment I woke up. I am also incredibly lucky to have skills that can be used to work remotely, and I'm incredibly lucky to have met people and read blog posts with suggestions for how to live the life I have now. But I didn't just wake up one morning and decide that I was going to write for a living. I put in werk.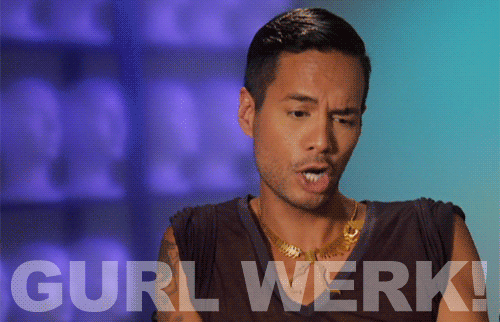 So What Is It That I Do Now?
I'm writing this blog post from a bus to Kuala Lumpur. When I get to Kuala Lumpur, I'm going to connect to wifi and write up some press releases for a gig I found on one of the many blogging/digital nomad Facebook groups I'm in. I spent most of my morning yesterday sitting on the floor applying for gigs on Facebook and Craigslist, drinking tea. I spent the previous morning writing introductions for an infographic, a gig I got through Upwork. I'm anxiously awaiting for more Upwork credits so that I can send more proposals for jobs. I sent 30 last month and got four jobs, most of which have given me ongoing work. (One job I'm waiting on hearing back from, because I'm pretty sure I spent two hours writing for them for nothing. Rant over.) Once a month, I write a slew of tweets for my old boss's clients. And that's about it, for now. It's been getting me through my surprise time traveling around Malaysia since I left Kuala Lumpur.
I haven't made too much from my blog, but most bloggers know that blogging for free is a reality for the first year or two years or so. Glamorous. Exhausting, really. There's a whole lot to blogging, from Pinteresting to pitching to writing and writing and writing and writing – I work on BBB a lot. And I feel like I know nothing.
I'm writing this blog post because I want to assure you all that there is a side to being a digital nomad that you don't see on Instagram. I see a lot of posts on blogger and nomad groups that ask how they can live this lifestyle and truly take on the term of 'digital nomad.' Realistically, I know that I'm going to be asking these questions to myself for quite some time, when I'm out of work, when I'm moving cities, when I'm paying taxes (woof). Traveling and supporting yourself through remote work isn't something you can sign up for and ride off into the sunset. It doesn't bring immediate satisfaction (or funds). Every hour of work in the airport or in a hotel room is preceded by hours of work and study and making connections outside, offline.
Australia is going to bring changes to my plans and opportunities that put things on hold and people who will teach me more about this lifestyle and countless Instagram posts 😉 I'm just as curious as you are about what's coming next, and how far my current work will take me. As I set up an email list (ha! Another thing to do!), be sure to follow BBB on Facebook.
Are you a digital nomad? Do you want to be? Leave some comments and let's chat!