My past few KindMeal reviews have all taken place around the Bukit Bintang area of Kuala Lumpur, but I'm shaking things up! This week I'm reviewing Grab Cafe!
Address: Unit 1-5, Ground Floor Menara UOA Bangsar, No. 5, Jalan Bangsar Utama 1, Bangsar, 59000, Kuala Lumpur, Wilayah Persekutuan, 59000 Kuala Lumpur, Malaysia
Hours: Open 8 a.m. – 8 p.m. Monday through Friday; Closed on Saturday and Sunday
Free Wifi? Yes!
KindMeal Deal: 10% off with Basic Discount; 20% off with KindWords Sharing; valid on any meat-free items
Do They Take Cards? They accept card payment for purchases over MYR 20.
I left the Bukit Bintang area to take a morning stroll through Little India (Brickfields). I highly recommend the area for shopping or just a quick wander. Grab Cafe was a great way to fuel up and start my morning.
Grab Cafe was super easy to get to; you don't even have to leave the metro station! Just take the LRT to the Bank Rakyat Bangsar station, head downstairs, and you'll find it on Floor 1.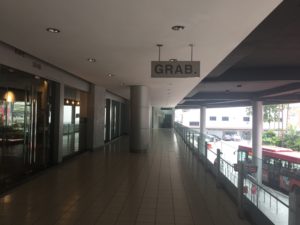 I always appreciate a coffee shop that has cold brew available, but it was surprisingly a not-devastatingly-hot morning, so I paired a Long Black with Grab's Cheesy Omelette. Any time I see 'mozzarella' on a menu, I'm probably going to order it. The breakfast selections were simple and satisfying, although I would also recommend stopping by after 10:30 a.m. for their brunch and lunch menu. The cafe had a page dedicated to meat-free dishes, but the cafe is friendly to meat-eaters as well (although they don't get the great KindMeal deal!)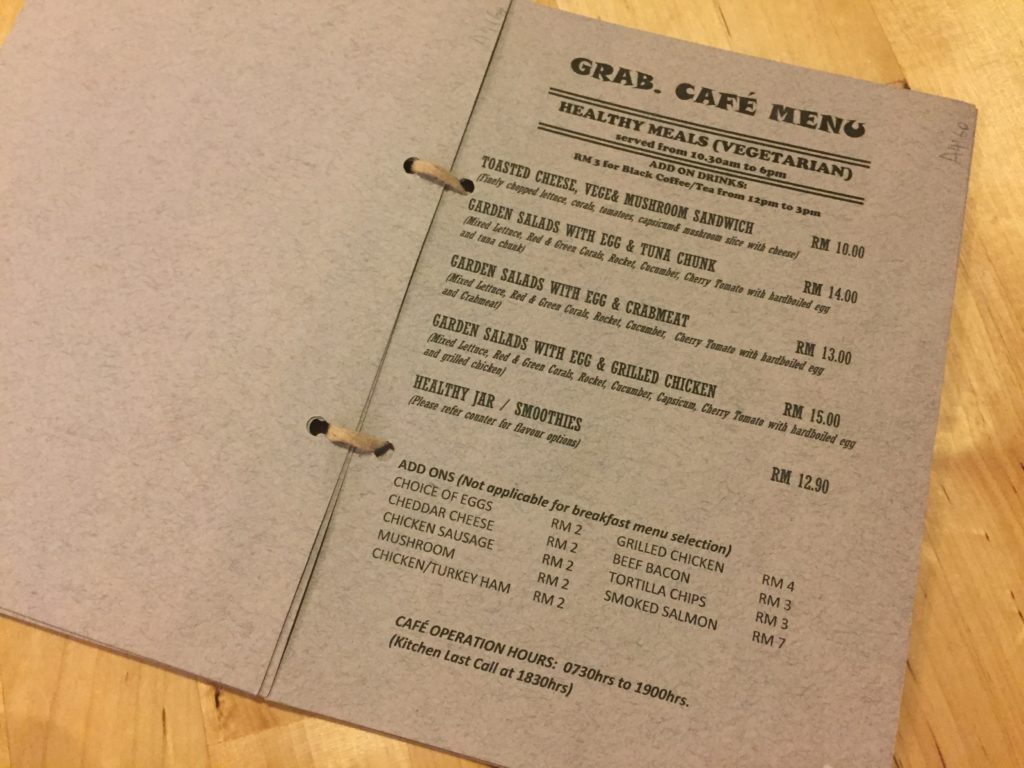 I arrived bright and early around 9 in the morning, but a few patrons were already hard at work. (And so was the one employee working…kudos to them for hustling and still providing great service!) The cafe had a simple set up, including a few tables that were separated by a sliding glass door. I've seen this setup in coffee shops back home that were perfect for meetings and people who worked from their computers.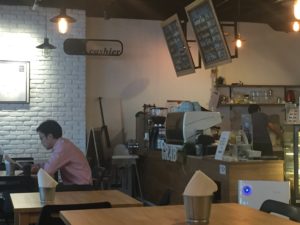 The group who convened in that area when I was at Grab all seemed to be working on the same exciting project, but the corner looked perfect for networking as well. I could definitely see myself posting up in this coffee shop for a few hours to get work done. They allow guests to use their outlets, so you may end up staying for another meal!
My breakfast was lovely! The omelette wasn't just packed with mozzarella (one of my favorite cheeses); I enjoyed peppers and other veggies as well. The omelette was paired with toast and a salad to give me all the veggies I needed for the morning! It's so nice to have a freshly cooked meal in the morning, isn't it?
My Kind Moment at Grab Cafe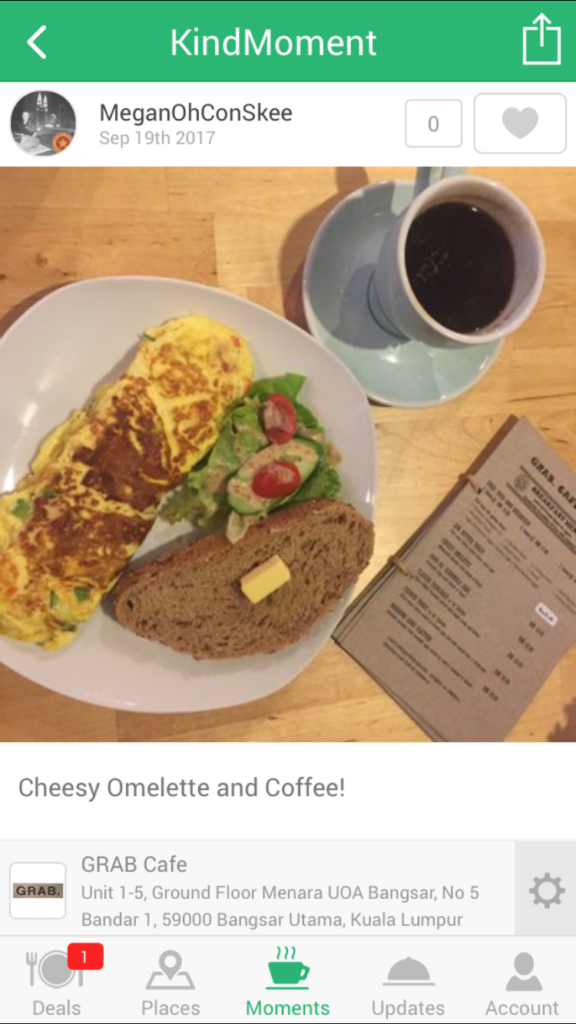 I shared all the cheesy goodness of my omelette on the KindMeal app! If you are in the Bangsar area, Grab is a great place to start your day or have a productive work meeting. The food is delicious and very fairly priced for locals and tourists, and if you have the KindMeal app, you can save money and animals!
Disclosure: This is a sponsored post, but all opinions are my own.