Wondering what to pack for Southeast Asia? Look no further. Yogis, techies, and backpackers, welcome!
Disclosure: This post may contain affiliate links. At no extra cost to readers, clicking and purchasing from affiliate links may result in a commission for the author.
My Favorite Backpack
If you're new to backpacking, a backpack would be a good start. I took the Osprey Women's Ariel Backpack (55 liter)  with me to Europe and Asia. I love it. She needs a name.
The 55 liter can (barely) fit as a carry on if you don't pack it up all the way, but still holds enough stuff to last you for a few months. It was the perfect size for me, although I brought a smaller backpack for day trips as well.
What To Pack for Southeast Asia: Clothes!
Yes, I brought clothes. But rather than give you a list of every article of clothing I brought on my trip, I'll give you some tips.
Don't Bring Denim: It is so damn hot and humid and it's just not worth it.
But Don't Forget Long Pants: If you're going to visit temples (which you will, and you'll get sick of it after a while as well,) you're going to need clothes that cover your shoulders, knees, and stomach. I brought a few pairs of yoga pants because yoga, but the lighter, the better.
Less is More: I don't shop in America. It's one of my least favorite things to do. I normally steal clothes from my very hip sister once a year, and that's about it. In Southeast Asia, however, I love shopping. Clothes are super cheap and fun to thumb through. Make some room (and alleviate a bit of guilt) by bringing less than you need.
Just Wear the Fanny Pack, Dammit:  Or bum bag, if you're British. You'll be surprised at how often you want to wear a fanny pack
, especially in cities like Saigon or Phnom Penh that are notorious for bag-snatchers. I bring mine out 99% of the time…I only need a larger backpack when I'm bringing my Kindle or my laptop. I've purchased super cute mini notebooks for when I want to write on the go as well!
Find Packable Coats: I'll give two suggestions. I knew I would be traveling throughout Asia and Australia for over a year, so I brought a winter coat and a rain coat. They both pack up into small packages, and mother and grandmother respectively picked them out, because they're angels. The winter coat is an Andrew Marc Hooded Long Packable Lightweight Down Coat
, and the rain coat is a Columbia Women's Switchback II Jacket
. I wouldn't exactly recommend the winter coat, unless you're spending a lot of time in Da Lat or other mountain cities. The rain coat has certainly come in handy, especially when I can attach it to my fanny pack/bum bag.
A Yogi's Guide to Southeast Asia
There are so many great opportunities to practice outside, inside, with your hostel roommates, as a feast for mosquitos, etc. Unfortunately, due to the space in my backpack, I've had to say good-bye to my Lululemon "The Mat" mat (which I highly recommend for hot yoga). Instead, I've brought the Manduka eKO SuperLite Travel Mat
. It rolls up, but it also folds nicely. It fits inside or outside of my backpack, but I only strap it on the outside if I cover it with my Summer & Rose Yoga Towel from FabFitFun
. I use the towel for yoga flows, an extra mat, a beach towel, or an emergency towel-towel. It's really useful, and quite thin as well!
Besides these two items, I've only brought yoga clothes (and my mala). I wish I had brought a yoga strap
 for carrying my mat around, but it's sitting at home next to my The Mat mat, missing me (hopefully.)
All The Tech Stuff – Instagram Queens, Book Nerds, Bloggers, Etc.
(If you don't follow my Instagram – do it! Now! Please. @beatbrokebackpacking.)
There are some absolutely breathtaking sights in Southeast Asia, from Bangkok's Grand Palace to the Botanical Gardens in Kuala Lumpur. To (try to) capture the beauty on this side of the world, I brought my Nikon COOLPIX L840 Digital Camera
. I shoot my yoga flows on my iPhone 6 (I know, right?) but I couldn't do it without my JOBY GorillaPod
and smartphone stand
. The GorillaPod is super flexible and can stand on its own or wrap around just about anything to hold my phone in place for filming.
In addition to my camera gear, Beat, Broke, Backpacking would not be functioning without my MacBook Air (mine was bought refurbished)
.
I also can't travel without my Kindle
. When I'm at home, I prefer to have physical books to mark up, but as a book hoarder, I travel with my Kindle so I don't have to part with any books I've befriended on my journey. (In case anyone is curious, I'm currently reading Infinite Jest
.)
These devices tend to die, so I keep a charging stick
on hand for emergencies.
Must-Have Medicine
Andrew is a great packer; the man brought more medications than I have in my bathroom. I definitely stole a Pepto Bismol
here and there (you will have unpleasant moments after eating street food, or flying, or just being in Southeast Asia.)
If you're heading to the islands, it's a good idea to bring Dramamine
. If you're going to the Full Moon Party (or like drinking in any capacity,) I recommend bringing Nuun hydration tablets
that you can pop in your water for B vitamins and electrolytes. And I always recommend bringing cranberry pills
. Those who need them know why.
Miscellaneous Items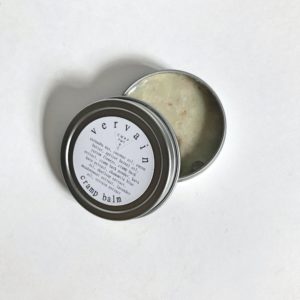 LADIES. Get Vervain Ritual Care Cramp Balm. I've mentioned it before on my blog, and I'll mention it again. It's a miracle.
LADIES (but also, everyone), bring toilet paper. Bring wipes, hand sanitizer, tea tree water, anything, because at some point you'll be peeing into a hole or on a floor and you'll have nothing around to soothe you or make you feel clean.
Time to Pack! Have Everything?
These are just a few of the items I brought with me. You can peep my beauty packing picks here, and download my full packing list below!
What are your favorite packing tips and tricks? How big is your backpack? How much room did you leave for shopping on Khao San Road? Let me know in the comments!