Okay. Back to chronological posts that don't talk about American politics. I won't mention T**** ever again. 
So let's chat about the Full Moon Party, yeah?
Koh Phangan was at the top of our bucket list. Why? Three words: Full Moon Party. We didn't know much about it, but we heard it was a big ol' party on the beach and we weren't going to turn that down. The overnight bus and ferry from Bangkok to Koh Phangan was an exhausting journey, so we gave ourselves four days on the island before heading back and continuing to Siem Reap. We went to the Full Moon Party. But then we had the question: what else is there to do on Koh Phangan?
Before we dive into it, let's talk about why we put the island on our list in the first place.
THE FULL MOON PARTY (AND OTHER PARTIES ON KOH PHANGAN)
We arrived at the Silvermoon Beach and Jungle Resort, which we had booked through AirBNB, the day of the Full Moon Party. We found out along the way that we had missed some of the parties that are typically held leading up to the Full Moon Party. The Jungle Party, usually held the day before, is apparently the most fun. So if you're planning a trip to Koh Phangan for Full Moon, give yourself a few days before and after.
One rager was enough for us, even with four days of recovery to follow. I'll admit that I was a bit hesitant, considering that I'm not a huge fan of crowds, neon, or thinking about the times I partied too hard on my last backpacking trip. But a bucket list item is a bucket list item.
Tens of thousands of backpackers flock to Haad Rin for the Full Moon Party every month. This month was no different. Andrew and I arrived to the beach with a group of about 8 other people from Silvermoon. We had plenty of 80 baht Changs (beers) at the resort and were ready to move to buckets. Luckily, one of the staff members at Silvermoon also had a gig bartending right outside the Full Moon Party, so we got discounts on buckets and a round of sambucha shots for the occasion. I decided on a mojito bucket with Thai vodka for 150 baht, half the price of the other buckets in the row. Whatever cocktail you fancy, you can find in a bucket.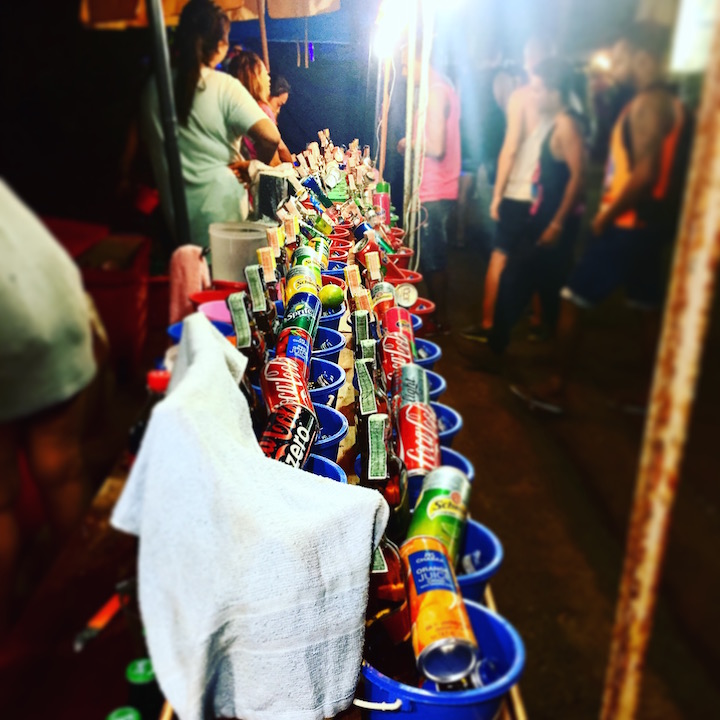 A note about some of the buckets. One was enough for me, but it's not unusual to get two or three. (Or four? Leave a comment with your bucket stories.) Unless you want to risk the Thai vodka, they'll cost around 300 baht each. And y'all, Thai Red Bull is NO JOKE. It's got some stuff in it that's banned in other countries. What, I'm not exactly sure. But if mixing energy drinks and alcohol isn't your bag, hold off on this specific bucket. Luckily, despite, what I thought when I read blogs about Full Moon and swore off buckets, you've got many options that don't involve Thai Red Bull.
I had pictured a party without a lot of room, with a lot of muscular dudes in neon tanks and sweatbands trying to hit on girls. When I arrived, I was relieved to have a little bit of elbow room, and a crowd of people who mostly kept to their groups and danced. The Full Moon Party featured many DJs outside of bars along Haad Rin. Some played techno, others played a playlist that was identical to my Sweet 16's. It was fun! We danced on bleachers, we strolled along the beach whenever we needed new tunes, and we watched people try and play with the notorious flaming jump rope. I don't recommend trying it, although it makes for a great photo (that I didn't get).
Unfortunately, swimming was not on the agenda; the ocean along the beach was primarily used for partiers who didn't want to pay 20 baht to use the bathroom.
If you're looking for a good Full Moon Party outfit, you don't have to worry about dress codes or anything else. I would suggest that you bring some face paint, glitter, gems…whatever you fancy. You'll make friends, and save money when you see body/face painting offered along the beach.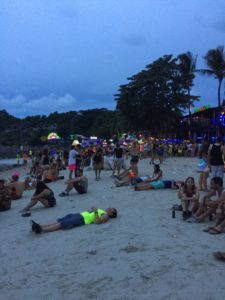 The party lasts until past sunrise. Keep 100 baht on you for the taxi ride back to your accommodations. Factor in some cash for late-night snacks to keep you going. (My choice was pizza. My choice, Thailand or Austin or Philadelphia or Madrid, is usually pizza. It wasn't great, but for around 70 baht, it was food.)
OKAY, FULL MOON PARTY'S OVER…WHAT'S NEXT?
I don't believe Andrew or I left the resort for at least 24 hours after the Full Moon Party. We had our morning coffee around 3:30 p.m. The resort had some great guests, and while recovering on the beach we managed to bond over a love of Texas Hold 'Em. I worked on filming the Hangover Flow, but we had arrived at Silvermoon after sunrise and we were on holiday…so we had no need to go on a crazy adventure right away. We looked at going to The Challenge, but 500 baht for physical activity was not on our radar. (Still looks fun, though.)
Once the sun is down, there are a few night markets on the island for food-hopping and shops. If you go into town, I can recommend Dots Coffee for a quick pick-me-up and wifi spot. You can also rent a motorbike if you know how to ride them. If you don't know how to ride them, I'd hold off. The main road is super hilly and windy. Cocky, inexperienced drivers will crash their bike in 15 minutes. I had enough anxiety riding in the back of the taxi (or in the bed of the resort owner's pickup truck.)
Here's some more recommendations (including…dun dun dun…a new yoga flow for you!)
WATERFALL HOPPING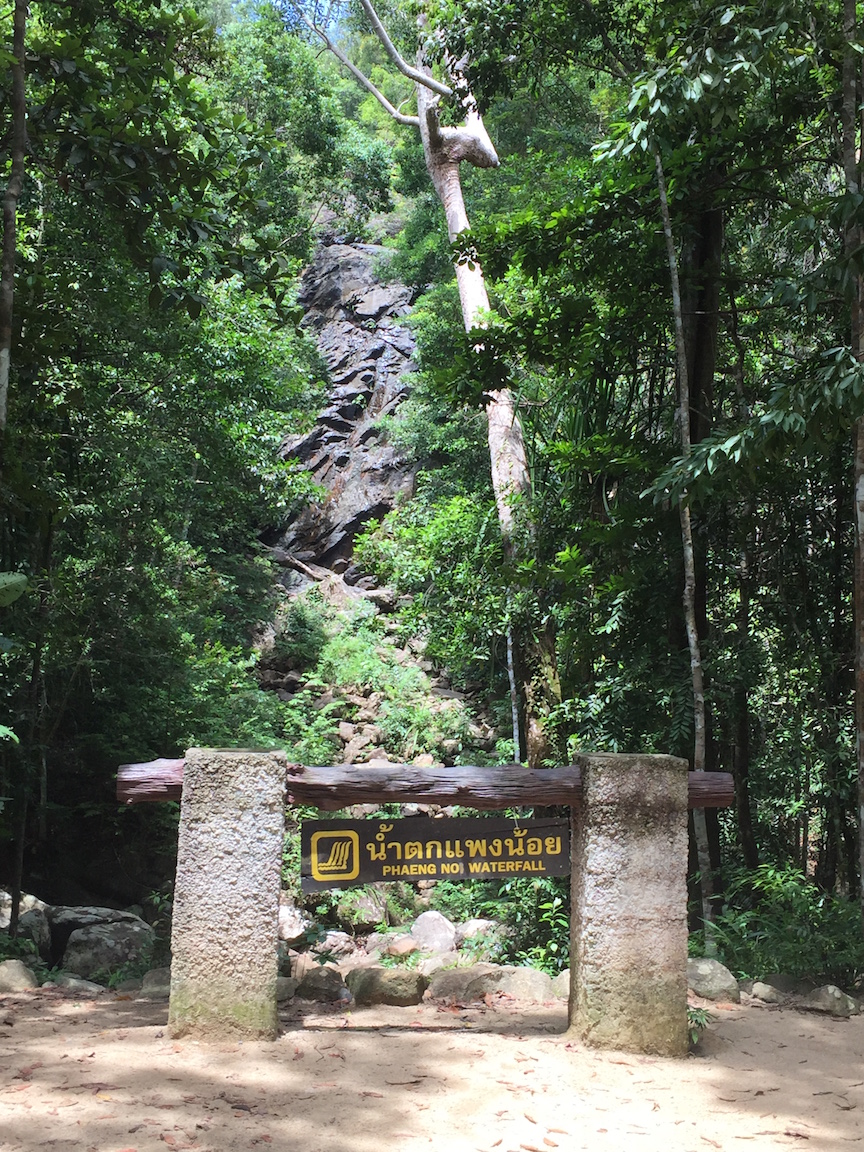 We grabbed a taxi to the Phaeng Waterfall for a nice little hike. It's not a long hike, but it's not easy. You'll sweat and slip if you wear sandals, but the sights are gorgeous and you can reward yourself with a little ice cream at the bottom.
The Paradise Waterfall and Than Sadet Waterfall are also great places to explore in Koh Phangan.
ANGTHONG NATIONAL MARINE PARK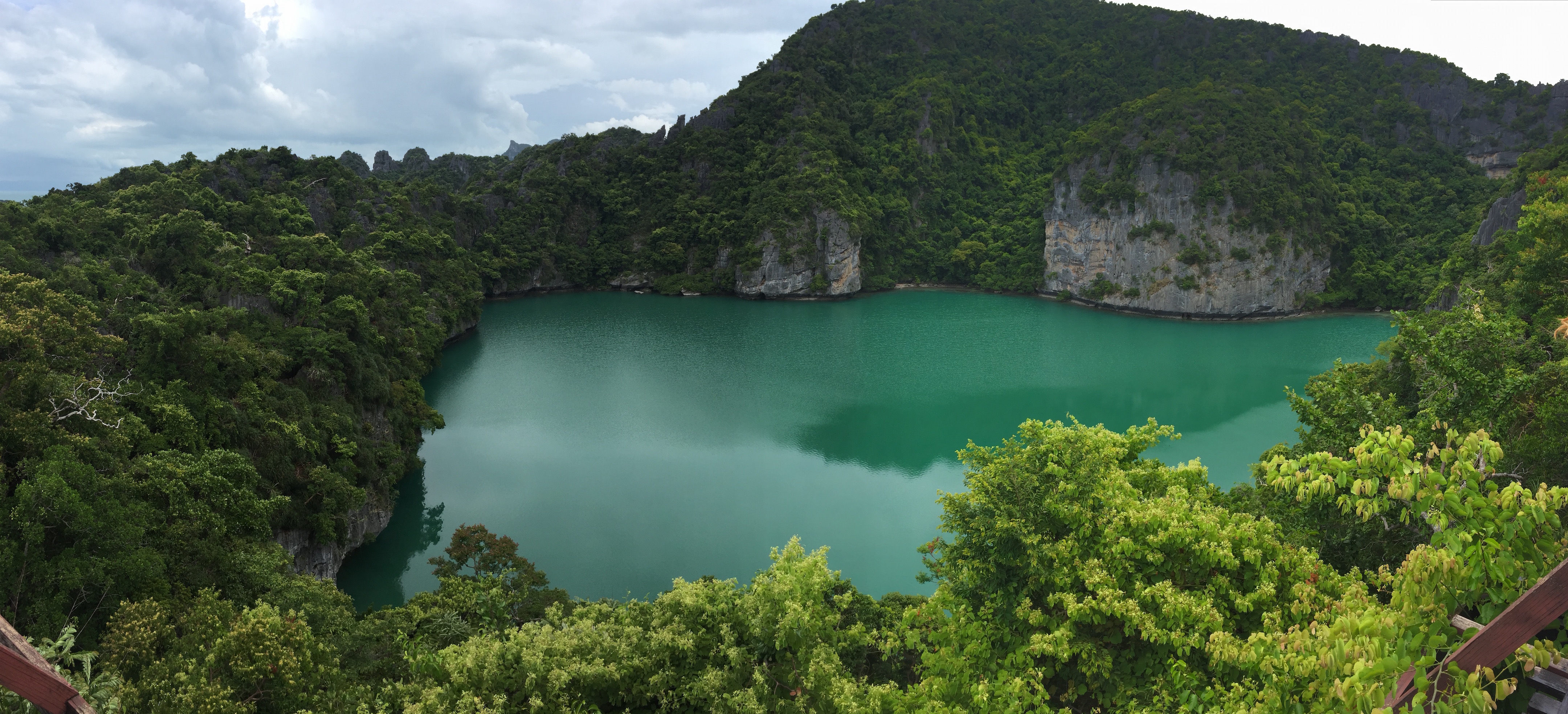 One of the coolest things we did during our time at Koh Phangan wasn't actually on the island. Angthong National Marine Park caught my eye on Instagram months before our departure, and despite the website having an option for booking a trip, I procrastinated until the resort offered a day trip package.
All together, a visit to the marine park with Orion Boat Trips was around 1700 baht. We could have paid extra for some kayaking (an extra 300 baht I believe), but in the end we decided to hold off. Included in the cost was a taxi ride from our resort, and the rest of the day, including lunch, was taken care of. The boat took about an hour and a half to get to our first destination, where we went snorkeling! I  got really close to a neon rainbow fish and heard it chomping on coral. It was magical. Other stops included a big rickety climb for an absolutely stunning view, and a very scary hike into a cave. Again, bring your trainers/sneakers/what have you, but visiting the marine park is absolutely worth it for the snorkeling and the beautiful scenery.

HANGOVER YOGA ! 
I had the joy of recording a yoga flow just for hangovers! I'm the first one to admit that keeping up with a yoga practice while backpacking is not easy…especially when you're recovering from the Full Moon Party. In this flow, I included slow, gentle poses to stretch and detox the body without working too hard. The flow was recorded right outside the resort where Andrew and I stayed. Word got around that I taught yoga, and after a round of Texas Hold Em, I was able to teach a class to some of the resort guests and staff!
So here you go, friends: hangover yoga!
KOH PHANGAN ESSENTIALS:
A few more items on the agenda, if you came to this post for travel tips.
If you're heading to Koh Phangan, pack the following items:
Nuun Hydration Tablets
Think Gatorade, but solid. If you can't stand coconut water (so many missed opportunities over here), these are hangover miracles. There are a lot of different flavors and options to choose from, including tablets with caffeine.
Dramamine (or your seasickness medicine of choice)
If you're taking the ferry over to Koh Phangan, it may help to have a few of these in your pocket. Just be careful about having alcohol while it's still in your system.

Fanny Pack, Waist Pack, Bum Bag…
We had no problems at the Full Moon Party, but it doesn't hurt to have all of your valuables on your person. I recommend bringing one for any backpacking trip. I seriously wear mine every day. They're great for hiking, as well!
WHERE TO NEXT?
If you've got some time after Koh Phangan, it's worth hopping around to other islands. For more ideas on what to do on each of these islands, check out these blog posts from other fabulous women travel bloggers:
THAT'S ALL FOR NOW!
Thanks for reading this post about Koh Phangan! Got more tips, or great stories from the Full Moon Party? Leave a comment below!
For more information about backpacking, follow Beat, Broke, Backpacking on Facebook, Instagram, and Bloglovin!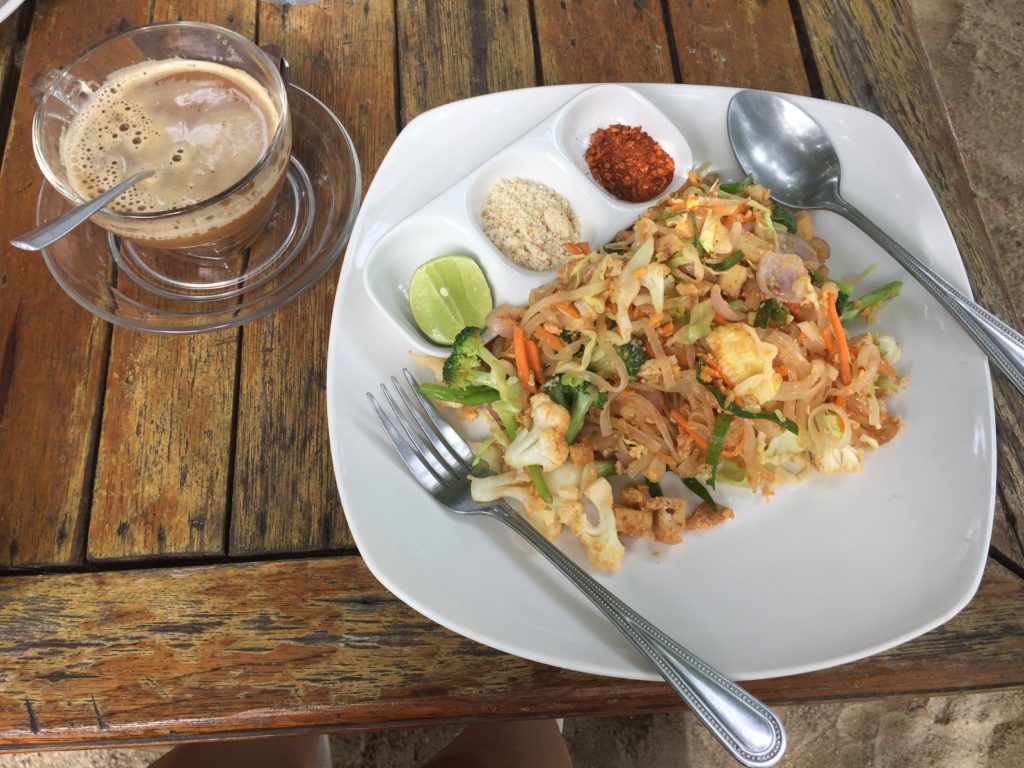 Disclosure: This post may contain affiliate links. At no extra cost to readers, clicking and purchasing from affiliate links may result in a commission for the author.