Hey friends! While I'm working on a big list of what to pack for Southeast Asia, I decided to make a quick post about what Lush products are best for traveling! If you know me personally or read my blog before I backpacked in Europe, you may know that I worked for Lush for many years and absolutely love their products. There are a lot of solid products that you can carry on, as well as products that last forever and keep you smelling fresh even on the sweatiest of travel days. Before Europe, I made a list of the products I was bringing. This time, I'm going to review the best products that I brought along.
All products below are cruelty-free, vegan, and packaged in recyclable containers.
Here we go!
1. Rainbow Fun ($9.95)
Fun, of any color or ~flavor~, is awesome because it works as a shampoo, soap, bubble bar, and sculpting clay. I haven't had to use it to build anything, but you never know. The rainbow fun is HUGE and a week in, I'm still using the first half of the first color. (I keep a color at a time in Lush's reusable square tins, and the rest tucked away in my backpack.) The smell is super fresh and is really easy to apply. I would suggest trying it out as a shampoo before you go, but I'm pleasantly satisfied with it (and I don't even use a conditioner!) It's also nice to know that if for some reason, I do stumble upon a bathtub, I can have a bubble bath without having to carry around or buy additional bath products.
2. Tea Tree Toner Water ($10.95)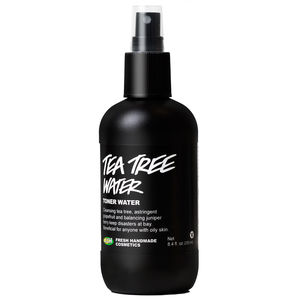 This three-ingredient product is my favorite Lush product of all time. The tea tree is antibacterial, the grapefruit water is an astringent, and the juniperberry water is a sebum balancer. (Glad to know I still got it, eh?) I use it to spray my face after a long day in the sun (put it in the fridge and thank me later,) but I also use it to spray my hands or spray cuts and blisters. You can also spray it on your pillowcase if you haven't washed it for a while, or spray it on a yoga mat. So yeah, 10/10.
3. Aromaco Deodorant (Price based on weight; $6.95 for 3.3 oz)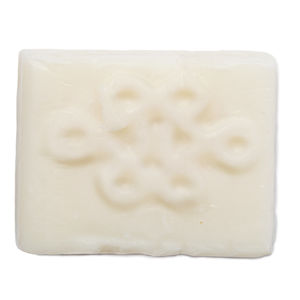 When I went to the Lush Oxford Street store two years ago, I was excited to try solid deodorants that I hadn't used before. I used Sunflower Deodorant, and I'm not gonna lie, it wasn't for me. I am a huge advocate of natural and solid deodorants though, so I brought my trusty Aromaco along this time around. I will disclose the fact that I brought a not-natural deodorant because that's what I had to resort to on my last backpacking trip, but I used Aromaco when I couldn't find it one day and had no problems. This stuff also lasts an eternity, which is nice.
4. Let the Good Times Roll (Price based on weight; $14.50 in-store for 3.5 oz)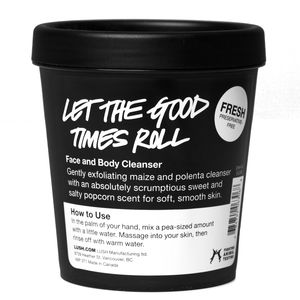 I was hesitant to bring a 3.5 oz pot with me because I didn't want it to take up too much room in my bag, and I already bought Fresh Farmacy (Andrew uses it too.) But if you know me, you know that I've struggled with acne throughout my teenage years, up until I started using Let the Good Times Roll. LTGTR isn't always the first cleanser that sales associates jump to for clearing up acne; its featured ingredients are polenta and popcorn, which gives it a nice fine scrub for the face and body. For some reason, though, this cleanser cleared my face right up, and I break out really quickly after I stop using it. So I had to bring it. I have enjoyed it for traveling because it's nice to have an exfoliant on hand (and face and body…pun intended.) Also, it smells like cookie dough. Just saying.
I chose this due to my personal preference, but if there is a Face + Body Cleanser that works for you, just bring it. It can really make a difference in your morale if you have that perfect cleanser and extra scrub (or soothing cleanser, in Aquamarina's case.)
5. Toothy Tabs! ($9.95)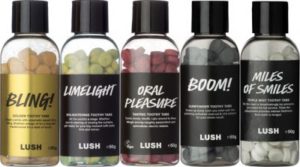 This is another product I waited to buy at Lush Oxford Street. At the time, the newest Toothy Tabs hadn't made their way over to America yet. I wanted to purchase Oral Pleasure (for the name alone,) but I was bummed to see that the store was all out when I arrived. I instead bought Boom, which had charcoal in it. Y'ALL. If you go into Lush, Boom will most likely be sold out, because it FLIES off the shelves, and for good reason. The charcoal makes your teeth so white, and it tastes like cherry cola, which is amazing. Unfortunately, Boom was also sold out when I was buying my travel stash, so I bought Oral Pleasure. Funny how that works. Oral Pleasure is great if you have sensitive gums, and it tastes like cake. Any toothy tab is amazing for traveling, though; they're solid, so you can carry them on and they don't make a mess.
Love Lush? Let me know what your favorite products are in the comments!